Music
Music statement of intent:
At Emmanuel, Music is a key component of our broad and balanced curriculum as we aspire for all children to experience 'life in all its fullness'
We intend for our music curriculum to:
Fulfil the aims of the National Curriculum for Music.
Inspire pupils to develop a love of music by engaging in practical music making, composing, singing and instrumental playing.
Reflect and celebrate the diversity of our school community by learning about different music genres, styles and traditions from around the world alongside the works of the great composers and musicians.
Help children to build their own resilience by learning to play a range of musical instruments with confidence.
Introduction about music
The Music curriculum at Emmanuel is carefully planned and sequenced to ensure that current learning is linked to previous learning. Music at Emmanuel is taught by a specialist music teacher each week through these key concepts:
Singing development
Listening and discrimination skills
Beat competency
Body percussion and movement
Instrument playing
Ensemble development
Composition and improvisation
Performance
Music skills from EYFS to Year 6
In EYFS, music learning is linked to the early learning goal of 'being imaginative and expressive'. Here, children are taught to find and control their singing voice, keep a steady beat to recorded or live music and perform on an instrument such as sticks or eggs with confidence. The pupils learn to listen and repeat words accurately and to move their body with increasing control when synchronizing gross motor movements with music at different speeds.
In KS1, children develop their singing voice, beat competency, rhythm skills and patterns and are introduced to music notation. By the end of KS1, they have an understanding of the shape of the melody, show the ability to use their voices confidently in a variety of ways, create movements to music, read rhythmic notation, listen and identify features of music and perform a steady beat on an instrument with confidence.
In KS2, learning builds on the foundation of skills children acquired in KS1. Pupils are taught to use their singing voices with increasing confidence and play musical instruments with control. They learn to sing a range of songs from different cultures, read more complex rhythmic notation and patterns and develop an understanding of history of music, musical composition, and improvisation.
Our music curriculum is enriched through the availability of 1:1 peripatetic tuition via Camden Music Service and from Year 2, each class has the opportunity to learn a different musical instrument. This culminates in Years 5 and 6, where every child is part of our 'brass band', benefiting from a weekly lesson from a specialist brass teacher. Our brass band perform a range of pieces to the school and their parents and carers in Emmanuel Church. We also have a school choir, and there are regular opportunities for the children to perform to one another and to our community. We also join with other Camden schools in the much -loved biannual singing event at the Royal Albert Hall and various cluster festivals during the year.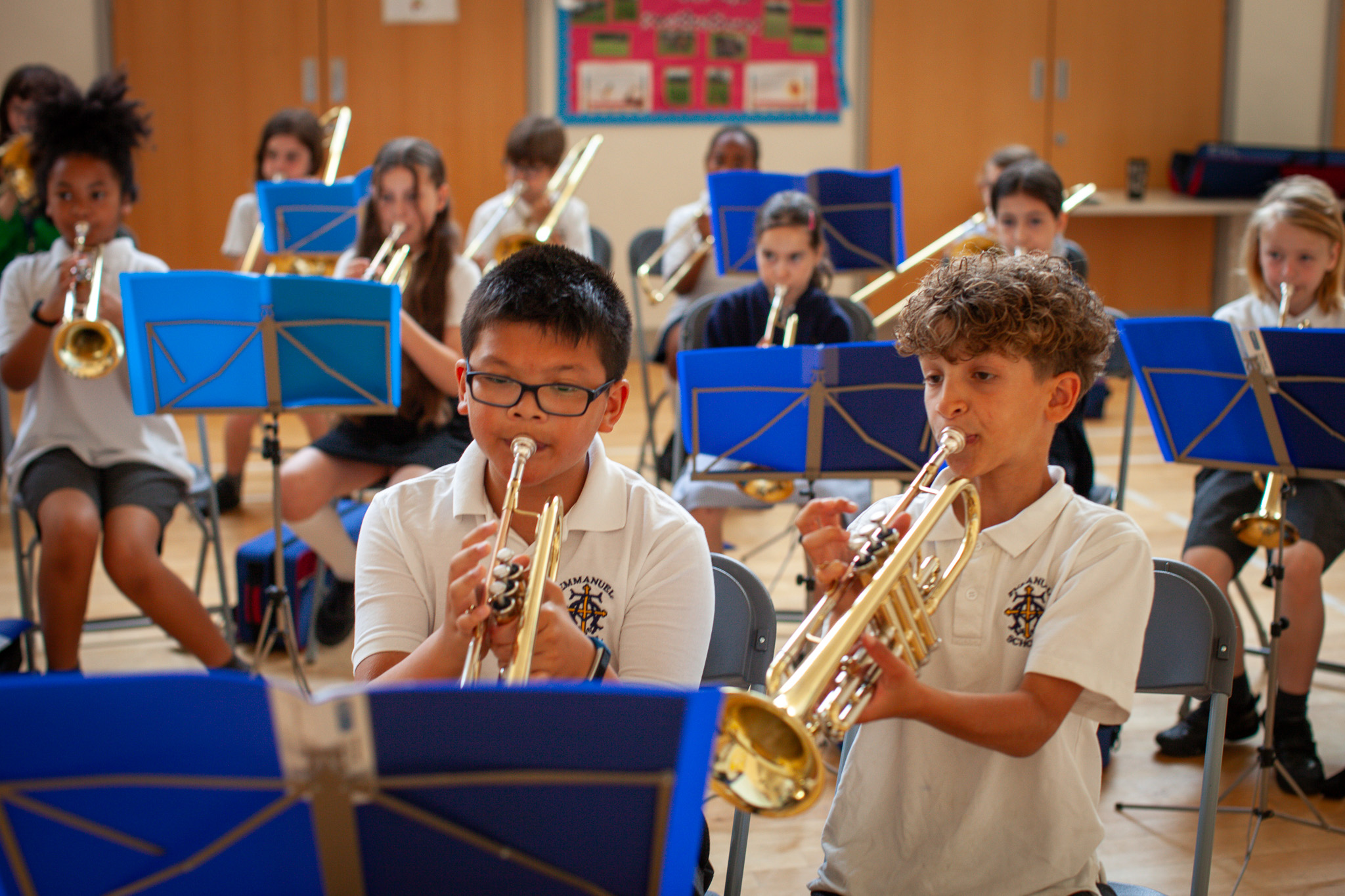 Please find our music curriculum, with a list of what is taught throughout the subjects at Emmanuel below: